Restaurant Space Build-to-Suit
This premier restaurant space is suitable for casual dining and high-end bar establishments offering an abundance of build-to-suit space for open seating and lobby areas. Benefit from the property's exclusive location on University Avenue in the heart of lively midtown. Situated almost right across from Ben Hill Griffin Stadium and the O'Connell Center, this space is perfect for wining and dining sports fans.
Second Floor Space – $30 per Sq. Ft.
Features
Private Staircase
2 Accessible Elevators
Connected to Parking Garage
Liberal Tenant Improvement Allowance
Open 24 Hours
Branding/Franchise Opportunity
Backup Generator
Current Restaurants in Service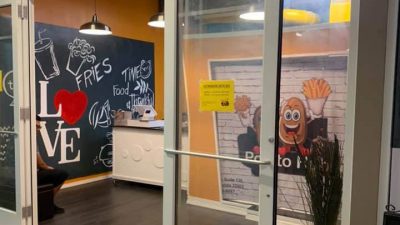 Potato Hub is the first of its kind in Gainesville. Offering a delicious variety of potato comfort foods from sour cheese flavored to pizza flavored fries with spicy mayo, you won't want to miss this. Open until 3 a.m. every Friday and Saturday. https://www.facebook.com/potatohub.us/